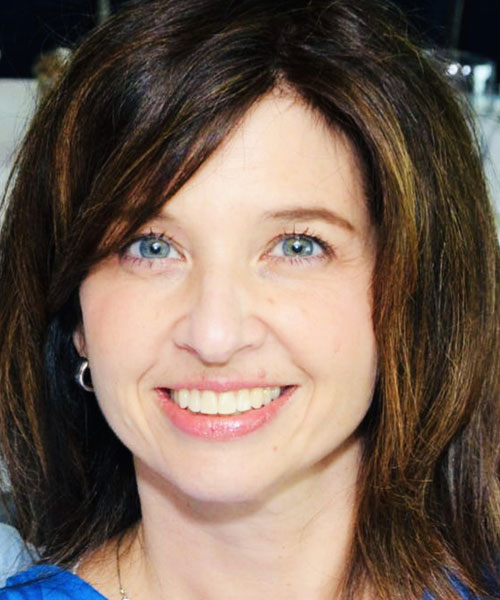 NADIA COLANTONIO, PT, BSc. PT.
Physiotherapist
Advanced Manual Physiotherapy, Acute and Chronic Pain, Orthopedic Rehabilitation, Vestibular Rehabilitation
Nadia is an Advanced Manual Physiotherapist and has been helping patients for over 25 years since graduating from McGill University in 1991. She also received her Vestibular Rehabilitation Certification in 2005 and has extensive experience working in hospitals, rehabilitation centres, and private practice.
Making a difference in people's recovery and function is the most rewarding and gratifying part of her job! She strives to make every patient heard, understood, and cared for with exceptional tailored treatment plans.
Nadia specializes in safe and effective 1:1 gentle hands-on care with no assistants. She offers manual therapy in a private room and is successful in treating conditions such as:
Headaches/Migraines
Neck Pain
Back Pain
Pelvic Dysfunction
Orthopaedic Conditions/Joint pain
Sports Injuries
Post-Operative Rehabilitation
The combination of Nadia's training and work experience makes her an ideal therapist to provide individualized care for simple and complex cases in people of all ages and abilities. Her treatment repertoire includes but is not limited to:
Myofascial Release
Muscle Energy Technique (MET)
Craniosacral Therapy
Visceral Manipulation
Vascular Manipulation
Neural Manipulation
Mulligan Technique
McKenzie Lumbar Spine
Vestibular Care
Vestibular conditions can be difficult and frustrating to live with. Having relief from these symptoms can drastically change a patient's life. As a Certified Vestibular Rehabilitation Therapist, Nadia provides treatments that are effective in relieving symptoms of vertigo, dizziness, visual disturbances, and physical imbalance. Her therapy is proven to help vestibular (inner ear/balance) disorders like BPPV, Vestibular Neuritis and Labyrinthitis.
BOOK AN APPOINTMENT!
If you are interested in a same day appointment, please contact our office at 905-639-7113 or
info@dsanda.ca